Anapro S.r.l.
You need, we do
Who we are
ANAPRO is a company made up of a team of expert people who, coordinated with each other, study, design and implement software in collaboration with the customer, to maximize the customer's competitiveness and efficiency.
Passion, continuous training and teamwork are the characteristics that allow us to best satisfy customer requests.
Our goals
Pursuing quality in its broadest meaning: development, research and innovation are a strong point to offer the customer the best possible results in a very short time.
Creating working relationships where trust becomes a value on which to rely, to differentiate ourself from the competition and keep relationships with the customer alive.
Understand, interpret, identify and analyze the real and concrete needs of the customer to create customized solutions suited to his needs.
La storia
In 1986 Giovanni Scaglia founded in Milan ANAPRO, a Software House which was soon recognized as a leading company for its organization and cutting-edge technology, where creativity and technical knowledge are well combined.
The history of ANAPRO proceeds in continuous ascent, with the acquisition of increasingly advanced technologies and important customers, operating and planning in a fertile context full of ideas.
ANAPRO has recently been taken over by Marco Suardi and Cristina Tessandri, who combine their skills with the company's rich background to offer increasingly innovative and competitive products and services.
Products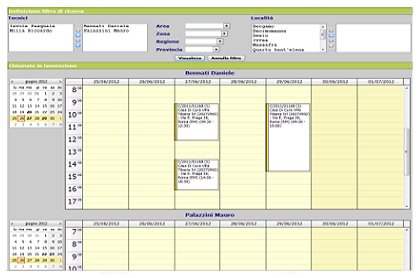 Assitec
Call center management, work planning, issue and archiving of service reports. The scalable and modular solution for customer assistance management.
Discover more
QuickHub
Management of company orders, registration of activities, data warehouse, customized on demand modules. A single container, a single interface for controlling your company.
Coming soon!


Allega
A valid alternative to the paper archive. A simple and effective way to manage all company documentation in electronic format.
Servizi
Our consulting for your need
Anapro makes its people's many years of experience available to support customers who need help to improve or complete their corporate information system.

We are available for consultancy of any length: for short evaluations or studies of feasibility, or for more lasting collaborations.
Tailored solutions for every need
The proprietary software product is not always the most suitable solution for a customer. A company does not always produce the right product to meet a specific customer need.

In all cases where standard software is not sufficient, Anapro designs and manufactures customized products for the customer , which fully meet your needs and maximize the achievement of your goals.
Integration with customer systems
In the development of IT systems, the integration between all the systems involved is a must.

Anapro supplies solutions divided into functional modules which each have their own task, but which are perfectly integrated with each other.

The systems supplied are also open and ready for integration with the customer system, which can in turn be divided into modules. Only with careful planning can optimal systems be created where each component is the harmonious part of a single whole.
Assistance and maintenance services
Anapro provides its customers and their users with an assistance service designed to support the use of the applications released with competence and professionalism.

Anapro, in order to safeguard the investment of its customers, undertakes to ensure continuous technological adaptation of its products by making new versions of the same available.
References
Over the years we have installed Assitec and Allega, and carried out different projects for customers of various sizes and belonging to different sectors. We mention a few:
Siemens Healthineers
Siemens Industry
General Electric Medical Services
B-Braun
Eurosets
Making Glass
Bi-Way
Robur
Quality
The adoption by an organization of a quality management system (QMS) compliant with the international standard UNI EN ISO 9001:2015 is an important and strategic decision, which helps to improve overall performance and build a solid foundation for the work done.

Anapro's attention to quality is constant, and finds its declaration in the
Quality policy